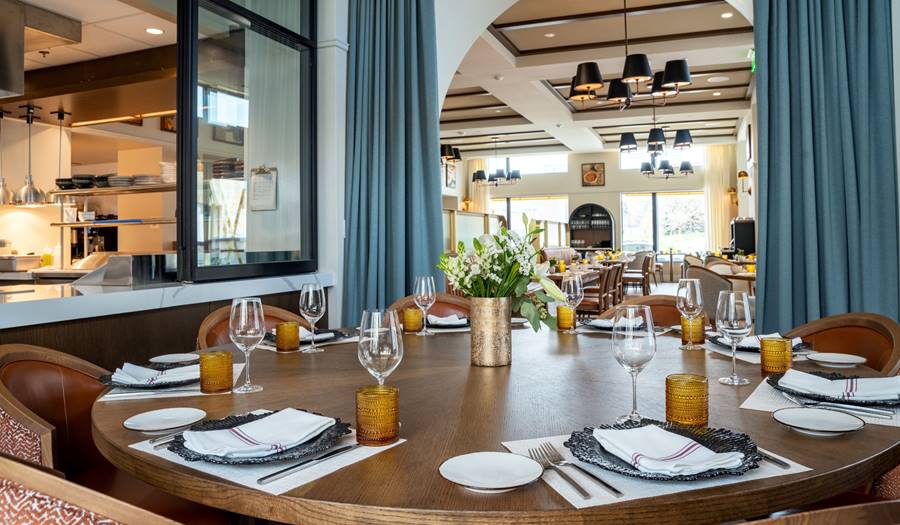 The Season for Feast & Fete at The Benson Hotel and Faulty Club
11/15/2023
Holiday Art & Music and a Gala Tree Lighting Mark Aurora's Celebration Season
November 15, 2023. Aurora, CO. It's the season of celebration, feasting, and feting, especially at The Benson Hotel and Faculty Club, the new luxury boutique hotel at Aurora's nationally recognized University of Colorado Anschutz Medical Campus. The city of Aurora, the Gateway to the Rockies, has a roster of fantastic holiday events and celebrations.
The Benson Hotel and Faculty Club was conceived as a community gathering space in a fast-changing city that has evolved into Colorado's biotech hub and a health and life sciences research center. The Common Good, The Benson's 100-seat restaurant, has already made its mark, serving a menu of freshly prepared cuisine created by Executive Chef Donovan Davis.
Basecamp for the holidays is The Benson Hotel and Faculty Club, which offers a Feast & Fete package. This one-night offer includes a room upgrade upon arrival based on availability, one $50 dinner credit to The Common Good, and self-parking.
There's a lot to celebrate in Aurora during the holiday season. Here's what's on tap. 
Holiday Art Affair
The Aurora Colorado Arts District (ACAD) has a heartwarming celebration of creativity and community at Holiday Art Affair: "Artful Holidays: Celebrating Local Creations." This special event, presented by the Aurora Cultural Arts District, showcases a curated selection of locally made artworks perfect for holiday gift-giving. Look for a wide range of artistic styles and mediums, from paintings and photography to sculptures and mixed media creations. These are evenings designed to engage with the talented artists behind the pieces, gain insight into their creative process, and learn about the stories behind their works. Each evening will have seasonal decorations, joyful music, and complimentary refreshments. It's being held on November 10, November 24, and December 8 evenings.
Festival of Wreaths
The Aurora Museum Foundation organizes the gallery opening celebration of the 24th Annual Festival of Wreaths fundraiser. There's a lineup of festive holiday wreaths created by community partners and friends of the museum. There is bidding in person on November 15 from 4 p.m. to 7 p.m. During the opening night, mix and mingle over delicious hors d'oeuvre, enjoy festive entertainment, and learn about events at the Aurora History Museum in 2024. This year's proceeds will go towards restoring and installing Aurora's iconic Cactus Motel Sign that once graced Colfax Avenue. This year's event will feature performances from the Nepali community in celebration of the upcoming 2024 exhibit Mosaic of Cultures: Aurora's Nepali Community.
Camp Christmas
The season's campiest, quirkiest holiday tradition is returning to its original location, Stanley Marketplace. Visitors can immerse themselves in a 15,000-square-foot, 360-degree kaleidoscope of yuletide cheer. It was created by Hanzon Studios and the Denver Center of Performing Arts (DCPA) Off-Center, Camp Christmas runs from November 16 to December 24.
A Soulful Christmas with Robert Johnson
Enjoy an afternoon of favorite holiday music performed with a soulful sound when the Colorado Jazz Symphony Orchestra (CJRO) takes the stage. Robert Johnson will lead the ensemble for an experience to get everyone into the spirit of the season on the afternoon of November 26.
Santa's Big Red Sack
Santa's Big Red Sack is a non-stop sketch comedy, music, and technology bursting with irreverent wit and unforgettable characters. Aurora audiences have returned to the show for two decades. Multiple dates between November 30, 2023, to January 15, 2024.
Holiday Tree Lighting & Merry Makers Market
Witness the illumination of thousands of strands of lights at the 2023 Holiday Tree Lighting on December 5, from 5 p.m. to 7 p.m. at Aurora Municipal Center. The City of Aurora will offer holiday-themed activities, treats, live entertainment, and a visit from a special guest. Merry Makers Market runs from 3 p.m. to 8 p.m. that day, a free, one-stop shopping event with a selection of products to choose from local and regional vendors.
Christmas Time Around the World | Aurora Symphony Orchestra
Celebrate the winter holidays with Christmas Time Around the World. Join the Aurora Symphony for a festive, heartwarming, and enlightening concert for the whole family about how people worldwide celebrate the holidays.
The Benson Hotel and Faculty Club is the place to call home during a holiday visit, and the hotel joins Aurora's festivities with its Feast & Fete Package:
One night in one of the Benson's distinctive guestrooms | Guestroom upgrade upon arrival based on availability | One $50 dinner credit to The Common Good | Self-parking | Based on double occupancy | New reservations only | $50 dining credit may be used for food and alcohol purchases at The Common Good, in the restaurant only, valid 7 days a week, from 5 PM - 9 PM | Valid through March 31, 2024 | Rates from $239 | Visit The Benson Hotel and Faculty Club for details
The Benson Hotel and Faculty Club, a Preferred Hotel & Resorts member, is the new hospitality center for the nationally recognized University of Colorado Anschutz Medical Campus in Aurora. Long considered the gateway to the Rockies, Aurora has evolved into Colorado's biotech hub and a health and life sciences research center. Conveniently located between downtown Denver and Denver International Airport, The Benson's 106 accommodations include a mix of guestrooms, suites, and an entire floor of apartment-style suites with kitchens. The property offers The Common Good restaurant, adjacent to the Fitzsimmons Innovation Community, the new business and residential district focused on medical and bioscience. The Faculty Club at The Benson Hotel will serve as an off-campus, private environment for the CU Anschutz Medical Community leaders and influencers to gather socially. Olympia Hotel Management operates the hotel which Aimco developed. https://thebensonhotel.com/
Photos are available upon request.
Press Contact:
Gayle Conran
ConranPR
212.447.1010