The Benson Hotel and Faculty Club is at the center of innovation and progress where people can come together.
It is a place where people gather, and relationships are built. Embodying the value of hospitality, the Benson Hotel and Faculty Club provides a refreshing oasis composed of warm and gracious spaces reminiscent of home. The Benson Hotel and Faculty Club salutes the Spirit of the West – a land where business leaders, global thinkers, teachers and students, writers and artists, pioneers and inventors embrace innovation. Here, there are new discoveries around every corner.
Now Open
A gathering place that celebrates our vibrant community. Where guests are invited to rest, recover, and rejuvenate.
Stunning Rooms
& Appointments
Inspired by our home where the Rockies meet the Great Plains, four distinct design schemes celebrate our environment and our community. Each guestroom is layered with comfort, functionality, and whimsical character to create truly unique stays. Visit and discover each of the schemes: Campus, Mountain, Garden and Plains. Find your favorite that inspires you.
Artisan Food
& Drink
The Common Good celebrates ingredients that are local, seasonal, and simply good. Here, we believe that global food is comfort food, while taking pride in sourcing locally from family farms and regional producers. Our full-service bar and restaurant invites guests, members and the community to enjoy a refuge of hospitality delivered with demonstrated excellence and quality.
A Micro Community
Rich with Activities
Located at the heart of the Anschutz Medical Campus and the Fitzsimons Innovation Community, the Benson Hotel and Faculty Club is a central gathering place for our diverse community. At the Benson Hotel and Faculty Club, doctors, professors and University Executives meet with innovators in health. Venture capitalists meet with start-up founders and industry leaders. And patients and their families enjoy a consistent and gracious welcome.
The Faculty Club
An exclusive gathering place to celebrate, empower, and connect medical professionals.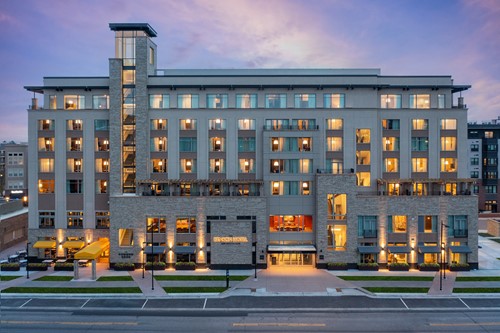 Keep in Touch!
Stay connected for promotions, announcements, & more!
×